The July 2011 issue of Texas Parks & Wildlife magazine celebrates 10 years of examining the state's most precious resource: water. Ever since the premiere in 2002, Texas Parks & Wildlife has devoted the entire July issue to this topic. During the early years of the series, each issue focused on one body of water: bays, rivers, springs, lakes, wetlands and the Gulf of Mexico. For this special 10th anniversary issue, we've assembled some of Texas' best writers and water experts to discuss the progress made during the past decade. We also take a look at the future of water, including available clean drinking water, declining marshland and the after-effects of oil spills in the Gulf. Here are excerpts of the articles in the July issue. Or read the whole issue in a digital format.
By Carter P. Smith, TPWD Executive Director
The Springs of Texas. Water in Texas. The Time it Never Rained. Goodbye to a River. Paddling the Wild Neches. Texas Rivers. The Water Hustlers. The Book of Texas Bays. Fishing Yesterday's Gulf Coast.
My bookshelf is chock-full of writings relating to Texas water — shallow and deep, salty and fresh, inshore and offshore, surface and ground, flowing and dammed, droughts and downpours. As a collector of such things, I suspect I am not alone.
In a state where most of us are seemingly always one day closer to the next drought, water and weather are top of mind for Texans.
Protecting the source of our drinking water and investing in the quality of water in rivers, streams, creeks, aquifers, estuaries and reservoirs are values that Texans identify as major statewide priorities. These sentiments are shared by all sectors of the Texas populace, irrespective of social, political, economic or geographic considerations. Read More.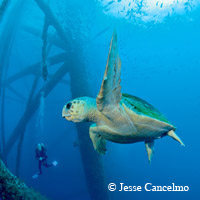 By Larry McKinney
It's our nation's gas station, seafood market, water filter and, sometimes, our trash can. It has been called America's Sea, the American Mediterranean, the Energy Coast and the Industrial Coast. It has also been called the Lost Coast and the Forgotten Coast. What is the Gulf of Mexico? It is probably some of all of those things, but for me, living on its margins and studying it for nearly 50 years, it is home.
Not everyone sees what I see in the Gulf. I was filled with dismay and frustration upon hearing a senior federal agency administrator — charged with managing our nation's ocean waters — write off the Gulf before an audience of agency staffers. I have stood silently seething as a leader of a major conservation group stated that there was nothing worth saving in the Gulf, that it was a lost cause. I doubt any of them have ever visited the Gulf. If they had seen what I have seen, or been where I have been, they would certainly eat those words. Read More.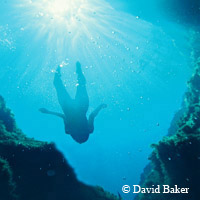 By Joe Nick Patoski
At first sight, Jacob's Well appears to be a deep, dark hole at the bottom of a pool of creek water — nothing more. Pay attention to how the hole, about 15 feet in diameter, has perpetually gushed pure artesian water out of the ground since before humans first wandered around this part of what is now known as the Hill Country, and it takes on deeper meaning. Listen to stories about it, and it becomes something much more than just a special natural place.
Spanish explorers described a head of water 4 to 6 feet high being pushed to the surface from far below. American Indians living in the area considered the place sacred. The name Jacob's Well was supposedly inspired by a survivor of the Battle of San Jacinto, the decisive battle for Texas' independence from Mexico, who first saw it while looking for a place to build a mill along the Blanco River and declared it "like unto a well in biblical times." Read More.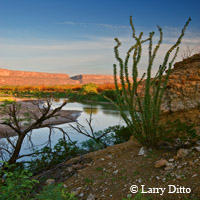 By Andrew Sansom
We camped on a sandbar in Santa Elena Canyon. The sheer 1,500-foot walls of the spectacular gorge on both sides of the river we Americans call the Rio Grande rendered our view of the sky a narrow, winding ribbon of blue far above. At twilight a peregrine falcon swooped down between the ramparts and snatched a Mexican free-tailed bat right out of the air. After the dinner dishes were washed and put away, the ribbon over our heads deepened to a richer hue, now spangled with countless stars.
Pleasantly tired, we savored the afternoon's run. The river flowing through the canyon was challenging enough but presented no serious danger to us in our canoes. In the campfire's glow, we savored our anticipation of the day to come. The strong currents of this great river would take us through the challenging formation known as the Rockslide and ultimately out of Santa Elena into the Chihuahuan Desert sun. Read More.

By Wendee Holtcamp
The moon is full, the night is warm, and I'm sitting in the high seat of an airboat, like a queen on a wetland wildlife safari. I feel like a firsthand witness to the springtime creation of new life. The deep glunk-glunk of a bronze frog, like a banjo, creates the song of the night, and baby marsh birds are everywhere. Two black-necked stilts guide their chicks, beige fuzzballs on stick legs, across a mudflat. A 6-foot gator slithers perilously near as a downy moorhen chick submerges itself, and I gaze in awe at the glowing orange eyes of what seems like a hundred of the reptilian beasts down the watery slough.
It is so beautiful and wild that this could be Africa's Okavanga Delta, only we're a mere hundred miles east of Houston. Read More.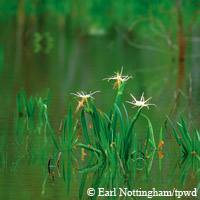 By Larry D. Hodge
Texans love their lakes, whether they are fishing for the lunker of a lifetime, speeding across the surface propelled by the wind or a herd of gas-fed horses or simply luxuriating in the view of the setting sun from a lakeside campsite, restaurant or home.
"At the lake" is where many Texans live on weekends. We boat, swim, camp, paddle, fish, sail, party, bond, laze. We make memories that will last a lifetime. Lakes surprise us with 10-pound bass like the one I caught on Cooper Lake in March, or the serenity of a morning kayak paddle on Caddo Lake like the one my wife and I enjoyed last year.
Few living Texans can remember the time when the state was not blessed with a multitude of sparkling lakes. Yet it was not always so, and not so long ago. Read More.
Bird by Bird, Fin by Fin, Drop by Drop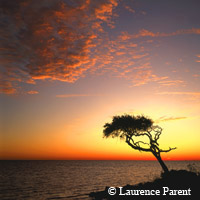 By Carol Flake Chapman
Two distant white blobs stand out against the grayish horizon on an overcast day as the 75-foot Wharf Cat chugs slowly across Aransas Bay on its way to the Aransas National Wildlife Refuge. Bracing myself on the boat's observation deck, I focus my binoculars on the marshy southwest edge of the refuge and then nearly drop them in excitement as the blobs resolve themselves into a pair of huge birds feeding in a shallow pond.
One of the birds lifts its head in our direction, and there is no mistaking the distinctive reddish-capped head, the prominent beak, the long, curving neck, the stilty blue-black legs. Read More.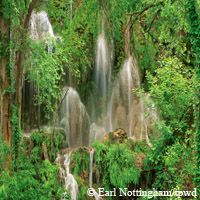 By Earl Nottingham
Waters born from above and below, from desert downpours to crystalline springs, carve their way across the vast Texas map, shaped and colored by their geography and geology. They gradually unite and mix as tributaries become creeks, creeks become rivers and rivers become gulf. Along their transformative journeys, many will flow through tranquil places, away from the noise and trappings of civilization, each bringing beauty to the landscape and inspiring those who seek its restorative power.
Photo: Colorado Bend State Park: Spring-fed waters from Gorman Creek cascade 60 feet down multiple tiers of fern-covered travertine slopes to form Gorman Falls. See More Photos.
Texas Parks and Wildlife has a series of related documentaries. Some of these videos accompany articles on the magazine website. To view the rest of the videos, visit The State of Water.
More articles in the July 2011 issue: