Texas' Best Land Stewards For 2011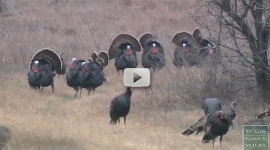 Private landowners are the key to successful land and water conservation in Texas, since more than 90 percent of Texas is privately-owned. The annual Lone Star Land Steward Awards honor private landowners for their accomplishments in habitat management and wildlife conservation and remind us of the value of successful land stewardship.
The Temple family, owner of the Temple Ranch in Duval County, is the 2011 recipient of the prestigious Leopold Conservation Award for Texas, conferred by the Sand County Foundation and Texas Parks and Wildlife Department. Read more in this news release.
Watch the videos of the state's eco-region, corporate and special recognition winners to see examples of outstanding land stewardship. Find the press release here.
Linda Campbell, Program Director for Private Lands and Public Hunting, describes the nominations process in this "Passport To Texas" radio program. Participants include ranchers, farmers, foresters, other land managers, wildlife management associations, and corporations/non-governmental organizations (NGOs).
Thanks to our primary partner in the awards, the Sand County Foundation, and current sponsors Gulf States Toyota, U.S. Fish and Wildlife Service's Partners for Fish and Wildlife Program, Texas Wildlife Association, Lower Colorado River Authority, H. Yturria Land and Cattle, USDA Natural Resources Conservation Service, Bamberger Ranch Preserve, Llano Springs Ranch, Ltd., Texas Agricultural Land Trust, Texas and Southwestern Cattle Raisers Association, and Gardner Appraisal Group.
Recipe for Fun: Find Water, Add Canoe, and Paddle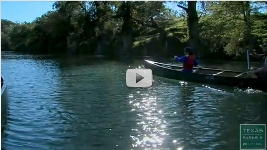 Calling all paddlers and those who want to be! You can now enjoy public access to 350 miles of great Texas rivers, lakes and shoreline through the Texas Paddling Trails program, which has partnered in the development of 33 Paddling Trails across the state, with 32 additional trails in the works.
Variety is the spice of paddling trails. With freshwater and saltwater opportunities, they create new avenues for wildlife watching, fishing and just plain paddling. For example, the Dallas-Fort Worth area now sports 57 miles of paddling trails that encompass the urban downtown and some of our oldest hardwood forests. Find more detail in this recent press release.
Read some first-hand paddling trail observations in this story by Russell Roe, Texas Parks & Wildlife magazine editor, written after a canoe trip down the Guadalupe River and a kayak trip along Redfish Bay's Lighthouse Lakes Trail.
Find trail descriptions, maps, GPS coordinates, trail lengths, estimated float times, safety tips and fishing and wildlife information on the Paddling Trails Web site. Paddling skills, as outlined in April's Texas Parks & Wildlife magazine, come with practice.
Could your community benefit from a paddling trail? Visit the Web site to learn more.
Crab Trap Cleanup 10th Anniversary Recap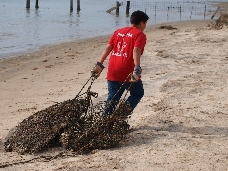 Few people think about abandoned crab traps. While Texans, tourists and anglers play on Gulf Coast waters, untended traps can sit below, silent and deadly, as their normal harvest becomes hostage to no useful purpose. Not only their intended target of crabs, but fish, turtles and other aquatic species ultimately die in these cages.
Here's the good news. Over 29,000 abandoned crab traps have been removed since the inception of the Crab Trap Cleanup program ten years ago. Each February during a crab fisheries moratorium, enthusiastic (also wet and sometimes muddy) volunteers search bay and estuary waters, finding fewer and fewer abandoned traps as the years go by. In 2011, they removed only 1,491 traps. While they happily work their way out of a job, their efforts save aquatic species and increase the crab harvest for fishermen. Read the program summary in this press release.
Thumbs Up For Bass Tournaments!
Is bass fishing good for Texas? Texas Parks and Wildlife district fisheries biologist Todd Driscoll has the answer.
Texas is home to great bass fishing, and some nationally-recognized fishing tournaments, such as the Toyota Texas Bass Classic, draw visitors from across the country to fish local waters. Todd Driscoll monitors the biological and economic impact of bass fishing and fishing tournaments. For his contribution to protecting the species and affirming the value of fishing tournaments to local economies, he received the 2010 Texas Parks and Wildlife Innovation Award. Congratulations, Todd!
Family Tips To Stay Cool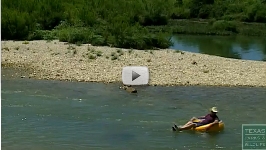 Looking to beat the heat? Below are three fun activities to get you and your family out near the water this summer. For more inspiration, check out this video on ways to keep cool in state parks.
June: It's the perfect time of year to take the kids fishing! Enjoy Free Fishing in State Parks or check out Go Fish! Learn-to-Fish events held at 13 state parks throughout Texas.

July: Go kayaking or canoeing on one of the many Texas Paddling Trails, all of which have well marked signs and easy, accessible take-ins and take-outs.

August: Beat the heat and cool off at a swimming hole near you. From spring fed rivers to Texas sized lakes, open ocean swims to diving in a pool, Texas State Parks offer a full range of swimming options.
Birding: A Year-Round Pastime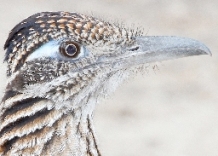 The epic annual spring migration has ended for northward bound bird species and the appreciative tourists who flock to Texas to see them. For birders who just can't stop looking, the fun rolls on through summer.
Texas is rich with birding treasures all year. While some species quickly move northward, others spend the summer in Texas rearing the next generation. Along with our resident species, they guarantee some fascinating summer birding before they head south. Hence, the spring and summer birding calendar from Texas Parks & Wildlife magazine, describes weekly and monthly guided birding events around the state.
Some summer birders explore less-traveled locations. "For many people, chasing birds is tantamount to searching for hidden treasure", says Noreen Damude. Read about her avian treasure quest to sites less traveled along the Great Texas Coastal Birding Trails in her recent story in Texas Parks & Wildlife magazine.

Image: "Greater Roadrunner" by Kelly Sampeck, winner of the Spring Break Photo Contest, Plant/Animal category, in the first ever TPWD Flickr® photo contest, April 2011.
Volunteers Worth Millions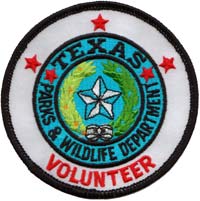 Thank you to our volunteers who kept out the welcome mat to Texas' great outdoors in 2010, providing close to 955,000 hours of service worth an estimated $16.9 million to the Texas Parks and Wildlife Department. Read more details in this press release.
Volunteers support our 90+ state parks, help teach activities such as angling and hunting, assist with events and workshops, work as interpreters and citizen scientists, and more. Now is a great time to volunteer state park, as explained in this "Passport To Texas" radio story.

Want to help out for a one-day event, a few hours a month or settle in as a park host? We have a need for brawn, brains, and just regular nice folks who want to share their enjoyment of the great outdoors and their commitment to conservation. Read more about volunteering and check the volunteer calendar for some upcoming opportunities.