Catch a Fish a Day for One Year: Keith Miller's Challenge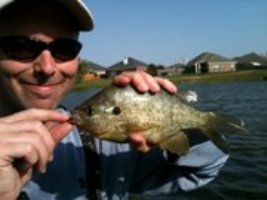 We know you love fishing, but could you fish every day for a year? Could you add it to a daily routine that includes a job, health issues, holidays, family commitments, the 24-hour clock, Mother Nature's unpredictability, and the fickle nature of fish? Amateur angler Keith Miller is. Using his fishing gear and artificial baits (lures) only, he's on a mission to build awareness of the importance of connecting young people to the outdoors and developing future stewards of natural resources.
"I'm concerned about a decline in youth participation in the outdoors over the past 10 years," said Miller, who said he's seen a corresponding decrease in young people's knowledge, understanding and stewardship of natural resources. Follow Keith and his 365 days of fishing which began April 1, on his Facebook page where he is sharing his challenges, his fishing holes and what lures he is using.
Read more of Keith's itinerary and philosophy in this press release. Watch for him at a fishing hole or a Go Fish! event near you.
Beat the Summer Heat: Fish At Night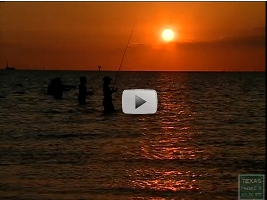 Almost any day is a good day to fish somewhere in Texas. But as the summer days heat up, night time becomes the right time for many anglers. When the sun goes down, the fishing gear comes out on Gulf Coast fishing piers and inland freshwater lakes and rivers. So do the bugs and bait fish drawn to lighted areas that also entices fish anglers like to catch. As anglers report in this video, one thing night fishing seems to promote is a special camaraderie among those who prefer do to their summer angling, as the song says, in the cool-cool-cool of the evening.
Find Way Out Fishin' Way Offshore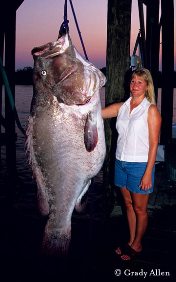 The western Gulf may kiss our coastline, but it's a world away from the Guadalupe River or even the saltwater beach fishing experience more familiar to many Texas anglers. Offshore, everything is bigger - the horizon, the gear, the fight, and especially the fish. Out there, foot-long fish make great bait! Think slightly sci-fi – exotic, strong and fearsome, some of which can break a leg if not handled carefully, according to Larry Bozka. Read his seafaring impressions in this story from Texas Parks & Wildlife magazine. The best way to go is with an experienced guide, Larry suggests. Think twice before trying offshore fishing. "Once blue water gets in your blood, it's tough to get out," he says.



What are Anglers Talking About This Spring?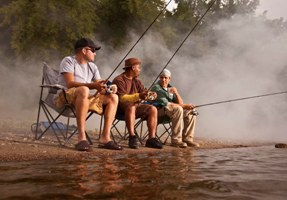 In the recent online chat session "Ask an Expert - Spring Fishing 2011," the first live chat on freshwater fishing from Texas Parks and Wildlife, about 250 Texas anglers posed questions to six Texas Parks and Wildlife freshwater fishing experts. Callers' questions covered bank fishing, lake levels, baits, what lakes have what fish this spring, and more. You can take a look back at the conversation questions and answers right here.
Free Fishing Day June 4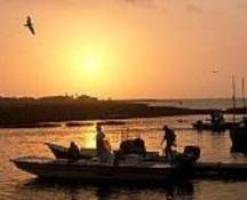 Texas is one of the best places for boating and fishing. Celebrate National Fishing and Boating Week Saturday June 4 – Sunday, June 12. Free Fishing Day, June 4 is part of the celebration and a good day to lure friends and family members out to give fishing a try. This special day, authorized by the Texas Legislature, is intended to promote fishing and encourage people to enjoy the state's fishing resources. Both resident and nonresident recreational anglers will be allowed to fish without a license and will not be required to have special stamps such as the saltwater or freshwater fishing stamps. For more information, read this press release.


Teach a Kid to Fish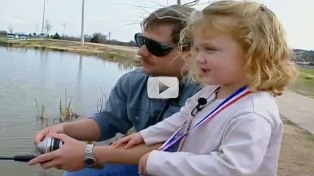 "Where can I take a youngster to bank fish?" asked some participants during our April Ask An Expert - Spring Fishing online chat.
Teaching kids to fish is on the minds of many anglers. To answer that first question, urban-area Neighborhood Fishin' lakes all offer bank fishing. Kids and adults love these fishing holes that are stocked with catfish or trout every two weeks in season, as reported in this story from Texas Parks & Wildlife magazine. Remember you can fish without a fishing license in Texas state parks, so check this list of state parks with fishing and call one near you to ask about bank fishing spots. And here's a general starter list of where to fish in Texas public waters.
This video offers tips for success with young anglers-to-be. Brush up on basic skills such as gear, casting, fishing safety, fresh and saltwater fishing, with our Fishing 101 video series.
Your family and children over age five can learn together with other families at hands-on Go Fish! Learn-to-Fish Events in State Parks. Check the calendar for opportunities near you.
A little planning can create fishing fun and build a foundation for a lifetime hobby. So dangle the bait!
Protect Texas Lakes: Clean. Drain. Dry.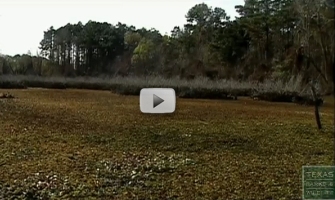 Clean. Drain. Dry. Wherever you go with your boat, do the right thing. Take these actions to help protect Texas lakes from invasive zebra mussels and giant salvinia which threaten Texas' great fishing resources. You've probably heard of giant salvinia. Here's the bad news on zebra mussels: they can attach to any hard surface clogging water intakes, fouling boat hulls and damaging engines, boat docks, ramps and navigational buoys. They wreak havoc on the environment, fish populations and beaches. They also clog municipal water systems, costing taxpayers millions. Read more on these two invaders and please spread the word to your fishing and boating buddies.
Stay Safely Afloat All Summer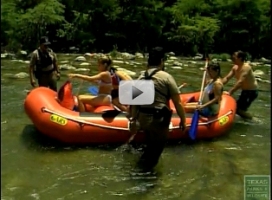 On the water, whether you're boating, floating or tubing, put safety first because nobody's waterproof.

Check out this video of water wardens (aka Texas Parks and Wildlife game wardens) at work and take note of the good, the bad and the dangerous behaviors they'll be looking for this summer. Brush up on boating safety tips and state boating laws before launching a boat and remember the life jackets (PFDs). Your friends and family will thank you.

Coastal Birds Need Coastal Boaters' TLC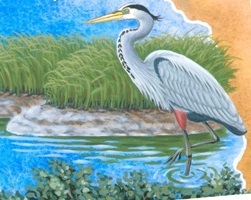 Between now and August, island rookeries will be alive with nesting birds. Rookeries are great to look at but are very sensitive to your presence. A boat too close to a nesting site can endanger hundreds of hatchlings and eggs if startled parent birds take flight for even a few minutes, as described in this video. So while watching for fish, please tiptoe past the bird nurseries.