Put a Turkey Feather in Your Cap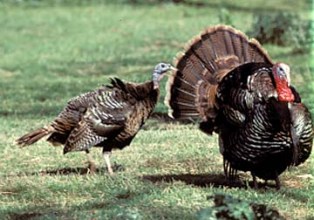 Looking for a long-beard this season? Think location, location, location. Hens and juveniles will be abundant in most areas, but mature gobblers will be plentiful primarily on lands that have been lightly hunted in recent years, according to Jason Hardin, Texas Parks and Wildlife Department upland game bird program leader. Read his turkey forecast in this recent press release.

Plenty of spring turkey activity is predicted for Texas, which has the highest density of Rio Grande turkeys in the world, so check the Texas Parks and Wildlife Department Web site or Outdoor Annual for listings of seasons, bag limits, and individual county regulations. A hunting license and Upland Game Bird Stamp are required to hunt turkeys.

Brush up on shotgun skills for turkey and learn how to score your turkey. Then impress your friends with your turkey parts vocabulary.
Train Your Sights on Some Wild Bacon … Please!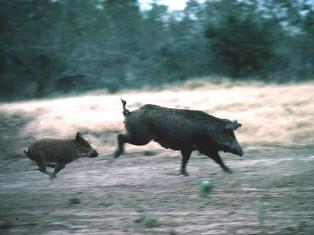 Feral hogs may not look so pretty mounted on a wall, but they have at least three things going that should please hunters: 1) they are the second most plentiful big game animal in Texas, 2) with a year-round open season and 3) they're good eating. Spring is a great time to hunt these invaders when vegetation is more sparse. Landowners also appreciate successful hunts before these prolific animals produce their large spring litters. Texas is home to half the feral hogs in the United States … good news for hunters, bad news for everyone else.

Bow hunters should take a special look at the opportunity offered by Texas' one-million-plus, four-legged tough-hided targets. Read about Brandon Ray's challenging hunt and his suggestions for success as described in a Texas Parks & Wildlife magazine story.

Hog hunting is a valuable contribution to conservation. These destructive foragers ruin agricultural lands and native habitat and degrade riparian areas as described in this February Texas Park & Wildlife magazine article far faster than nature and dedicated land owners can restore them.
On the other hand, with proper handling, they serve a very useful purpose filling a plate. Feral hog guisada, anyone? Find that recipe right here.
Wanted: Hunter Education Instructors and Students
If you're going to hunt in Texas, you are required to take a Certified Hunter Education Course with few exceptions. Here's why:

Thirty-seven people died in hunting accidents in Texas in 1968. In 2010, four hunting fatalities were reported. Although that startling drop is good news, it is four deaths too many. "The statistics show hunting is safe and getting safer in Texas," said Terry Erwin, TPWD Hunter Education Coordinator in a recent press release. "And we do believe that is directly related to hunter education." Watch an overview of the program. Hunter education covers the skills, regulations and responsibilities of hunting, wildlife conservation and the outdoors; it earns you a lifetime certification that is recognized by all states and provinces requiring hunter education.

Already an experienced hunter? Become a Certified Hunter Education Instructor with Texas Parks and Wildlife and help achieve zero tolerance for hunting fatalities and accidents. Check out the steps to become a certified hunter education instructor.

Not only will you be giving something back to a favorite sport, you will find rewarding opportunities to mentor new hunters as described in this radio interview with Erwin.
Matchmaking Hunters and Landowners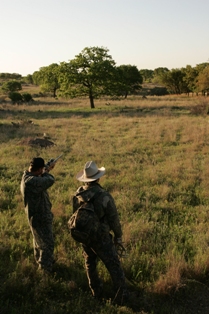 Dreaming of a new lease for your life? Wondering how to find that perfect someplace? Feeling shy about making contact? Don't despair. A great match is out there.
Online hunter/landowner matchmaking resources through Texas Parks and Wildlife will be continually updated and expanded as the summer approaches. Try HuntTexas Online Connection. This free service from Texas Parks and Wildlife makes it easier for landowners to manage wildlife populations and to provide information to hunters about hunting opportunities on private lands. Communicate anonymously until you decide to exchange contact information.
We also host a list of multi-media private lease-listing Web sites available for your search. Other providers of lease listing services may request that their URL be listed on this page.
And remember that public drawn hunts will be available in July.
The Public Hunting Drawing System provides low-cost, high-quality public hunting opportunities on over one million acres. Individuals are drawn to receive a Special Permit by random selection done by computer from a qualified pool of applicants.

Hunting access is also available by the Annual Public Hunting (APH) Permit which allows hunting on over 200 areas including Wildlife Management Areas and approximately 130 dove and small game areas leased from private landowners. Fishing, camping, hiking, nature watching, photography and equestrian use are also available on these areas. Read about the permit.
Squirrel: Small but Mighty Influential Game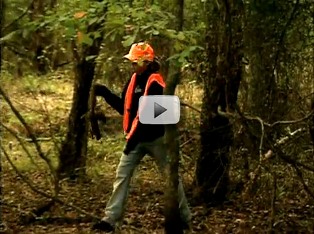 You've heard it many times. You may have lived it yourself. Small game hunting is a great way to introduce youth to hunting and to encourage an appreciation of the outdoors. Those youthful hunters often become the next generation of conservation-minded adults who value wild lands and continue the tradition.
That's where squirrel hunting comes in. Time in the woods is family time and nature time with some eagle-eyed hunting to boot. Tag along with this father and daughter during a tramp through east Texas' Gus Engeling Wildlife Management Area in search of squirrel.Take a young person hunting and discover that time spent together in the woods is time well spent.
Thank You For Hunting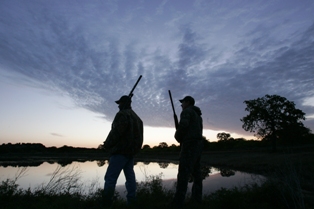 American sportsmen contribute in many ways to the conservation of wildlife species and habitat. Thank you! Here are five that you can be proud of, courtesy of the National Shooting Sports Foundation.
1) More than 10 percent of every firearm and ammunition purchase goes to directly fund wildlife and habitat restoration.
2) Through license fees and excise taxes, sportsmen contribute $4.7 million per day that goes to conservation efforts.
3) Hunters and anglers have contributed $8 billion, through fees and taxes, to preserve our wildlife and environment.
4) Conservation efforts funded by hunters' purchases have helped save more than 38 million acres of America's habitat.
5) Since 1937, 3.7 million acres have been purchased and turned into wildlife management areas.
Is Your Deer Blind for the Birds?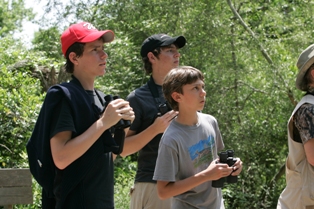 Get more from your deer lease. In the off-season, take the family for a non-hunting birding trek. It's a great excuse to enjoy family time outdoors. Explore the property, ID birds and plants, and make observations that may help you when you return to hunt. In season, tuck a copy of our free Birding from the Deer Blind brochure into your gear. And this fall, while you're waiting for the deer to show, you can train your observation skills on the birds.
Leasing Your Land to Texas Parks and Wildlife for Big Game Hunting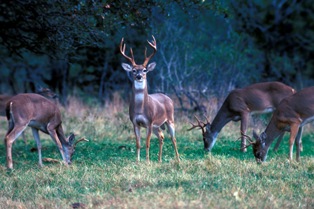 Offering public hunting on your private lands is a way to help meet your management goals.
Consider partnering with Texas Parks and Wildlife.
We are looking for private landowners who are willing to provide a 2-day hunt for white-tailed deer, mule deer, pronghorn and/or exotics to public hunters chosen through the public hunt draw system. We select the hunters and provide your information to them.
How It Works: You tell us what game you have to offer and we negotiate a lease price. You control how the hunt is run, including check-in, rules, placement of hunters and check-out. Amenities such as camping, guide services, and lodging are not required but can be negotiated as part of the lease price.
Benefits to You: We handle the marketing, selection of hunters, payment of the negotiated lease fee, and assist you in achieving your big game management goals. You will be supporting the hunting heritage of Texas by providing a place for more families to hunt.
To learn more: Contact Kelly Edmiston at (512) 389-4595; Kelly.edmiston@tpwd.state.tx.us or Linda Campbell at (512) 389-4395; Linda.campbell@tpwd.state.tx.us or visit the TPWD Web site at www.tpwd.state.tx.us/.