Catching the Spring Crappie Wave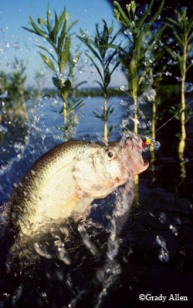 Crappie fishing is a springtime angler tradition in Texas. To whet your enthusiasm to wet a line, read all about crappie fishing in this just published article from the February issue of Texas Parks & Wildlife magazine.

You can check out the predicted action at five of our Texas fishing lakes near Wichita Falls in this news release from Texas Parks and Wildlife's North Texas district.

Wishing for some new spring fishing spots? Check out the Texas Parks and Wildlife where-to-fish-list.

Review all you need to know about crappie including tips on cooking in this brochure.
White Bass Run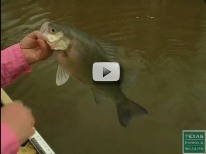 And while we're talking Texas spring fishing traditions, what about those white bass just migrating in from deeper water? Their territory is spreading across Texas waters through stocking and natural migration, so they may be coming to a fishing spot near you! Read up on the species, catch a glimpse of some traditional white bass hot spots, and go give it a try.
Baby Flounder Making Gulf History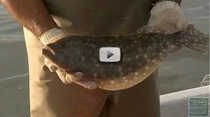 Baby flounder are making history. The first baby flounder stocked into Galveston Bay represents hope for a Texas fish that is….well, floundering. Volunteers and Texas Parks and Wildlife biologists have launched a challenging restocking program to help a species whose population has fallen about 50% in the last 30 years. Watch the video of the Southern Flounder story.

Where's the Next Big Bass Lake?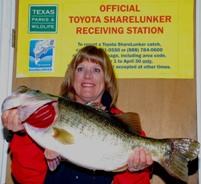 When big bass lakes are hot, they're hot, and O.H. my, O.H. Ivie is on fire! This reservoir has produced 17 ShareLunker bass weighing more than 13 pounds since January 1, 2010. For more details on what has made this lake such a fishing hotspot, see Larry Hodge's story, "Lakes on Fire: What will be the next hot lake?" Follow the clues yourself as published in the February issue of Texas Parks & Wildlife magazine and try to find the next lake where the lunkers will be lurking.

As part of your research, keep an eye on fish records at your favorite lake and follow ShareLunker on Facebook. And when you make your big catch, there's still time to join in the competition yourself. Here's how!
Game Wardens on the Gulf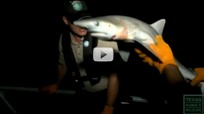 How would you like to work from your boat? For the folks tasked with enforcing fish and game laws along 350 miles of coastline, going to the office can mean heading out to sea. Ride along with the Texas Game Wardens who patrol offshore to protect the state's precious Gulf resources in this segment from "Texas Parks and Wildlife" PBS TV show.

Keep up with the game wardens ongoing statewide activities as they work to enforce the regulations that protect sportsmen and species.
Fly Fishing 101 March 12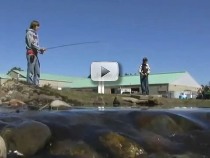 Calling all wannabe fly fishers! On March 12 you have a chance to turn that dream into a real hobby. Aimed at the novice fly fisher, Fly Fish Texas is designed to teach you how to tie a fly, cast it and catch a fish with it—all in the same day at the same location. You'll learn from the experts. Fly fishing clubs and anglers from across Texas will gather at Texas Freshwater Fisheries Center in Athens, Texas to share fly fishing tips and techniques and teach them to others. Check the schedule details, peruse the news release and take a peek at how the event looks.

Keep up with all the activities at the Freshwater Fisheries Center through its Facebook page.
Fishing Manners Matter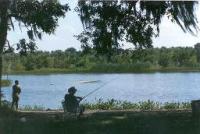 Dear TPWD Abby: The guy fishing next to me keeps edging into my space. How can we keep the peace at this great fishing spot?

Dear Angler: There's nothing like a peaceful day of fishing to ease the mind and soothe the soul. You can help insure a sense of tranquility for yourself and fellow anglers by following a few basics of angler etiquette as summarized in this brief story from Texas Parks & Wildlife magazine. Every veteran angler knows how important these tips are to a happy day on the water. Thanks for spreading the reminder.
State Fish Art Contest Deadline March 31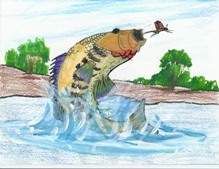 Know a kid who loves the outdoors and loves to draw? Tell them about the State Fish Art Contest. The deadline to enter is March 31. Texas entries are judged at the Texas Freshwater Fisheries Center in Athens, and the competition is stiff as reported by fisheries center's Zoe Ann Stinchcomb in this "Passport To Texas" radio story. Contest prizes include cash, fishing gear and more as well as a day of outdoor activities at the center.

Teachers who are interested in the classroom opportunities created by the contest can download the free "State-Fish Art Contest Lesson Plan" at www.statefishart.com. The interdisciplinary curriculum includes lessons and activities, a species identification section profiling each state fish, a glossary and student worksheets.