Dive Into "The State of the Gulf!"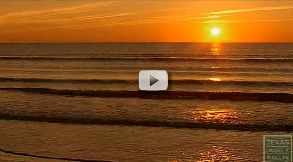 Mark your calendars for this Thursday, February 24 at 8:00 p.m. when "The State of the Gulf – America's Sea" will air on PBS in most Texas markets. America's Sea is the fifth and final in series of acclaimed documentaries that are part of a program combining film and special issues of Texas Parks & Wildlife magazine.
The Gulf of Mexico is a grand, interconnected water body that spans five states and portions of three countries. The Texas Parks and Wildlife Department dives in to explore this vast body of water. This film provides a deep background on the Gulf, including the ecosystem and the economic system that revolve around it. Watch a short video preview.
It's a beauty of a film. Texas Parks and Wildlife producer Lee Smith and his crew used the latest technology in aerial filming to capture the Gulf's sublime magnitude. He created a video describing their soaring flight above the Texas coast.
The companion July 2011 final magazine wrap-up issue of Texas Parks & Wildlife magazine marking the 10th anniversary of the State of Water project is expanded to 96 pages to discuss water issues from all angles and includes stunning landscape and wildlife photography to help illustrate why water matters so much to us all. TPWD Executive Director Carter Smith will provide an extended foreword to the issue, looking to the future of water in Texas and the role TPWD will play in conservation efforts. One more great reason to subscribe to the magazine by May 1: you'll receive this July issue! Or check newsstands in mid-June.
The Road Home for Bighorn Sheep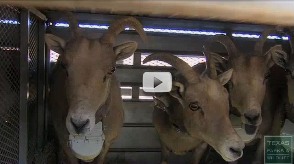 Decades after desert bighorn sheep disappeared from Big Bend Ranch State Park, they're back! There are more now than there were 100 years ago, fulfilling one goal of the Texas Parks and Wildlife strategic management plan for the park.
In late December, forty-six rams and ewes bolted from their trailers (caught on video) oblivious to the complex planning and coordination described in this press release among agencies, biologists, environmentalists, volunteers, and just plain fans of these magnificent animals who made the homecoming possible.
The decades-long success story has been underway since the 1950s and '60s when bighorn sheep were reintroduced in West Texas in a process that, although difficult and dangerous, has ultimately led to successful bighorn management. This video describes the early history.
See what life is like for Texas Parks and Wildlife biologist Scott Lerich from Elephant Mountain Wildlife Management Area who describes living in the beauty of the west Texas desert habitat and working with the magnificent bighorn sheep.
Wildlife Trail Maps: Nature's Auto Accessories
Tire pressure gauge. Mini-flashlight. Isn't your glove box missing something?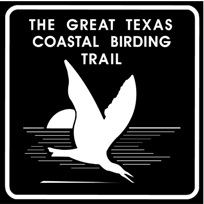 If you've traveled a Texas highway, you may have pondered the meaning of the small brown-and-white road signs featuring an interesting wildlife silhouette and a site number. Mystery solved! These signs, which number over 950 across the state, indicate a wildlife viewing opportunity on one of nine Great Texas Wildlife Trails.
As recently announced in this press release, the brand new West Texas Trail marks the completion of our statewide wildlife trail system. The first of its kind nationwide, the Texas trail system has inspired more than 40 states to develop wildlife trails.

There are nine trails in the Texas system each with a map that includes driving loops with a unique highway sign, site numbers corresponding to the map, and information about wildlife likely to be found at each site.
Find out more about these handy maps. Time for a road trip!
Want More Locally Grown Food? Try Hunting!
Adding more local and sustainably grown food to the dinner table is on the minds of many Texans. Hunting has regained some of its hipness as urban-dwelling foodies seek game for recipes. Legions of dedicated home cooks committed to using local products go to great lengths to acquire the ingredients they need; the passionate pursuit of wild game leads some of them to take up hunting — becoming, for many, the first in their families to do so. Austinite foodie Marshall Wright tells how he became a foodie hunter in this upcoming segment from the "Texas Parks and Wildlife" TV program.
Once game is in hand, next steps combine careful food preparation with great recipes like these from the Texas Parks and Wildlife Web site. To be ready for the fall deer season, brush up on some expert tips for cooking venison, a popular and relatively available game meat, in this "Passport To Texas" radio story.
Make a Plan For Some Outdoor Family Fun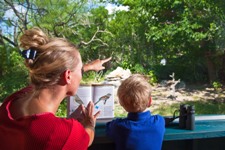 Technology is a good thing, but we've become a society where kids tethered to mobile devices, video games, and headphones have all but replaced the days of playing "Kick the Can" on neighborhood streets with friends, or just hanging out at a park all day. Kids today spend more than seven hours each day in front of an electronic screen and only four to seven minutes each day in unstructured outdoor play (like climbing trees, or building forts out of sticks and rocks), yet studies show that playing outside in nature helps kids to be healthier, happier and smarter. Here are some ideas on how to get outdoors with your family for the next three months!

March: One way to discover wildlife is to make a few stops along the Great Texas Wildlife Trails (see story above). These driving trails will direct you to the best spots in the state to get out and observe wildlife such as birds, butterflies, bats or pronghorns. So grab your binoculars and camera and go!

April: Did you know Texas is one of the top birding destinations in the world and that over 630 bird species can be seen in Texas? See where you can find great birding in your area and get some birding pointers in this Texas Parks and Wildlife video.

May: Take an overnight Texas Outdoor Family workshop where you can learn to camp and try your hand at geocaching, fishing or other activities. No experience necessary!
A Fish Called Ethel: The First Texas ShareLunker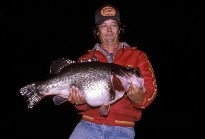 You can thank your lucky stars for Ethel, one 17-pound plus largemouth bass who became the charter mom of the Texas Toyota ShareLunker program, now celebrating its 25th anniversary. Because of this pioneering and wildly successful program, trophy bass fishing thrives in Texas today and so do many local lakeside economies. To understand why an estimated 1,500 people attended her memorial service in 1994, read Ethel's biography as told by her ghost writer Larry Hodge in Texas Parks & Wildlife magazine.
Since 1986, the ShareLunker Program has promoted the catch-and-release of large fish and the selective breeding of trophy largemouth bass. From that date, more than 500 largemouth bass have been donated from 55 public reservoirs and more than a dozen private lakes.
Check out current and legitimate Texas bragging rights on the ShareLunker Facebook page, and picture yourself on these pages. Read up on this great program.
Archery Outreach Hits the Mark With Kids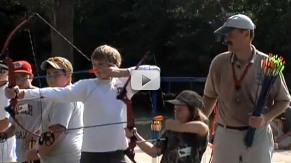 Zing! A bow and arrow is one great way to win a kid's heart. The Texas Parks and Wildlife's Archery Program – part of the National Archery Program, engages school students with results far beyond the bulls-eye. Increased self-confidence, greater interest in school, and better grades are often reported by parents and teachers.
Archery is a lifetime activity open to all kids. No one knows this better than Archery Coordinator Burnie Kessner who won the 2010 Texas Parks and Wildlife Employee Award for Community Outreach. Watch this video about the program and Burnie's commitment to introducing students to archery. He comments on its impact in this "Passport To Texas" radio story.
The National Archery in the Schools program certifies teachers as instructors who learn the program just as they will teach it to their students. Do you know a local school that could benefit? Read more about the program and how to bring training to your school.